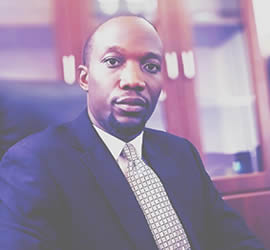 SENIOR PARTNER/FOUNDER AT STABIT ADVOCATES RWANDA
Attorney at Law
Office line: +250 789 366 274
Mobile: +250 782 328 126/+256 785 294 482
Office Email: herbert@stabitadvocates.com
Personal email: zziwaherbert@gmail.com
Mr. Zziwa Herbert is a Founding Partner of STABIT ADVOCATES-UGANDA/RWANDA, a Regional law firm made up with brilliant and professional Advocates. He remains a Legal Consultant at Premier Law Chambers.
Mr. Zziwa Herbert worked as an Associate Partner holding office as a corporate lawyer at Premier Law Chambers where he served as Counsel in multi-international companies and NGOs, disputes and projects/Transactions including Loan documentation and negotiation, mergers and acquisitions, customs and tax cases at regional level, immigration/ other international cases among others;
Mr. Zziwa Herbert served as a company secretary of VISION DE'DON a Ugandan company, a legal advisor to KBOGC-Uganda and this complements to his exposure and experience in the legal profession. He is member of the YALI NETWORK Bureau of International Information Programs U.S. Department of state under which he was awarded certificates like; Certificate of Business expansion, Certificate of rights of women and girls, Certificate of Public Private Partnerships, Certificate of civic responsibility among many others.
He has served as President, Chairman and Board Member of some companies and/or NGOs, such as DAMA Group (U), HFUCHS Global ltd, Vision de' don, the Cross Boarder Initiative (CIB) among others.
Mr. Zziwa Herbert is a Law practicing Advocate of the Supreme Court and all Subordinate Courts of Rwanda, a member of the Rwanda Bar Association, the East Africa Law Society. He holds an LLM in Business Law from University of Rwanda (UR), LLB – Bachelor's Law Degree from the Islamic University In Uganda (IUIU-KC) as well as a Diploma in Legal Practice awarded by the Institute of Legal Practice and Development (ILPD), Nyanza, Rwanda.
He is a native speaker of English and a working knowledge of Kinyarwanda, Luganda, French and Swahili.