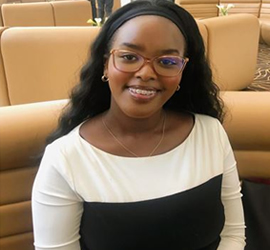 TRAINEE ASSOCIATE AT STABIT ADVOCATES RWANDA
Office line: +250 789 366 274
Office Email: bonita@stabitadvocates.com
Ms. Mutesi Bonita is a Trainee Associate at Stabit Advocates Rwanda, Ms. Mutesi Bonita is currently pursuing her Bachelor of Law Degree (LLB) with international relations from Middlesex University Mauritius.
She interned and still trains with the firm since June 2022 and she has handled matters concerning labour law, commercial law, and immigration law. During her internship she possessed a great work ethic and had excellent communication and interpersonal skills that allowed her to develop effective working relationships with our clients it being the reason she is onboard Stabit Advocates. She will also be obtaining her Diploma in Legal Practice from the Institute of Legal Practice and Development (ILPD) and has also completed a Course on International Standards of freedom of expression this has shown her dedication to exploring all areas of law.
She has also interned with Steven and Associates law firm in Mauritius where she assisted legal research regarding the Mauritian law. She is a native speaker of Kinyarwanda with an excellent command of English.